Fan Club
Club dues are $17 per year in the United States; $19 per year (U.S. funds, please) in Canada; and $22 (U.S. funds) internationally.
Please make your check or money order payable to:
Bill Honor
PO Box 5566
Fort Wayne, IN 46895-5566.
For more information:
Go to Website
---
Contact Us
Site Administrator
Send any comments, questions, suggestions related to this web site. Also email any Abbott & Costello questions you might have to this address. I am the A&C trivia expert on this site. I do not know everthing, but know plenty.
Email Admin
Chris Costello
Send any comments and questions relating to Lou Costello and the licensing rights to Abbott and Costello.
Chrisco815@aol.com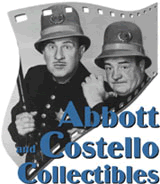 The Abbott and Costello Collectables site focuses on licensed Abbott & Costello products, there are also other comedy legends in the product pool. All products being offered are licensed and in no way infringe upon the rights of the individual estates.
Abbott and Costello Collectables Website
---
Newsletters
The following base directors publish monthly newsletters. There is no cost to you except postage. Please send a self-addressed stamped envelope (SASE) for further information on how to receive your monthly issues of the following publications:

The News Hangs High
c/o Bill Honor
Box 5566
Fort Wayne, IN 46895-5566

(This is the monthly newsletter, not to be confused with the all-new supplimental issue between Quarterlies)

Who's On First In N.Y.
c/o Robert Attanasia
254 Bement Ave
Stanten Island, N.Y. 10310
raa45@hotmail.com

Private Notes
c/o Kim Kruithoff
2128 Dewey Street
Sioux City, Iowa 51109

If you would like information published in these issues (Bulletin Board requests; A&C events; news on the boys; articles; etc.) please direct to the individual base director. Please be sure to always enclose a SASE when requesting a response.
Links


Abbott & Costello


Lou Costello Jr. Recreation Center in East Los Angeles

Universal Studios A&C site
Good site about bud and lou. Includes some video clips.
Go to Website

Bud & Lou
The Foremost Abbott and Costello Impressionists in the Country.
Go to Website

The Ultimate Abbott & Costello Tribute Show
Bill Riley and Joe Ziegler are excellent A&C impersonators.
Go to Website

Fort Lee Film Commission
This commission plans on hosting an A&C film event every year. So check this site periodically for a schedule.
Go to Website

The Unofficial Abbott and Costello Blog
A fan will be doing movie reviews, book reviews and any other Abbott and Costello review he can find.
Go to Website

Old Time Radio
You can find Abbott and Costello radio shows for sale here.
Go to Website

Classic Horror
Interview of Chris Costello.
Go to Website

Lou Costello Statue
Here is a link showing the Lou Costello Statue in Patterson NJ.
Go to Website

A&C Models
Finshed classic A&C models which were sold back in the 1960's.
Go to Website

8mm16mmfilmscollectibles.com
You can purchase A&C Castle films here.
Go to Website

Abbott & Costello Collection
A site selling original A&C posters, movie cards, and signatures.
Go to Website

Brian's Drive-In Theater
General information about Abbott & Costello.
Go to Website

Rich Scrivani (Abbott & Costello)
LIITLE GIANT and THE TIME OF THEIR LIVES
(ABBOTT & COSTELLO'S CINEMATIC HALF-TIME)
Go to Website

Stomp Tokyo video reviews
A review of A&C Meet Frankenstein.
Go to Website

The Big Cartoon Database
A comprehensive list of information on all the A&C cartoon episodes.
Go to Website