The National Enquirer
(September 1973)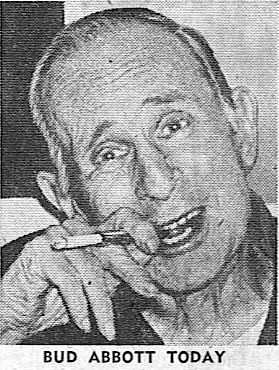 Now 74, Lonely, Dejected and Living on Social Security......
Bud Abbott of Abbott and Costello Comedy Team Would Like to Hear from Enquirer Readers.
Bud Abbott, the surviving member of the famed Abbott and Costello Comedy team, sits at home alone and dejected.
It's been 17 years since he played straight man to Lou Costello, his chubby partner for 36 rib-tickling films.
It's been 14 years since Abbott lost the fortune he made in movies, when he was forced to sell almost all his valuable possessions at cut-rate prices to pay the government $750,000 in back taxes. That same year, 1959, Costello died of a heart attack.
Today, time passes slowly for the aging, 74 year-old Abbott. He lives off his Social Security payments in a modest house in Studio City, Calif.
Clad in a plaid bathrobe, Abbott smoked a cigarette with trembling hands. In a gravelly voice reminiscent of his classic comedy days, Abbott said: "It would be great to hear from my old fans and friends among Enquirer readers. Sitting at home the way I do, I'd just love the hear from people. It'd be a great help in passing the time."
Ed Sherman, who has been Abbott's manager since 1938, told the Enquirer: "Earlier this year, Abbott fell and broke his left hip. Then a few months ago, he fell and broke his left leg between the knee and thigh. Bud was released from the hospital early this summer and has been recuperating at home. He would love to get mail from his friends."
Abbott admits he's anxiously awaiting mail from loyal fans - fans who've been delighted by the antics of Abbott and Costello for years.
"It gets so boring at home. After all, how many reruns of Abbott and Costello movies can a guy watch on television?"
His address is: Bud Abbott c/o Mr. R. Handley, 13063 Ventura Blvd., Studio City. Calif. 91604.