The National Enquirer
(October 1973)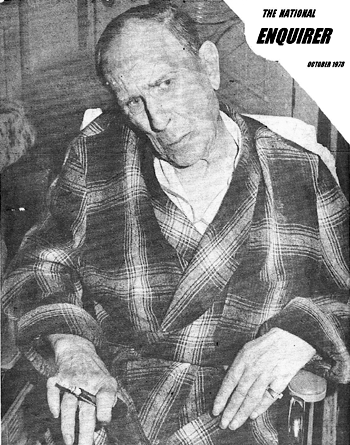 Bud Abbott, 75, of Abbott and Costello Fame, Is Near Death
Comedian Bud Abbott is dying. Abbott, 75, who for years brought joy to people everywhere as the slender straight man of the Abbott and Costello comedy team, has been victim of 2 strokes and now is dying of cancer.
"The doctors don't hold any hope for him," Rae Victoria Wheeler, Abbott's daughter, sadly told the Enquirer. "He has cancer."
Said her husband, Don Wheeler, "My father-in-law is a very sick man. He has prostate cancer. He is in a lot of pain and hallucinates a great deal." Wheeler is an X-ray technician at West Hills Hospital, San Fernando Valley, Calif. where Abbott goes for treatment. "Doctors say Bud has three to six months to live, but only God can tell. His condition changes from day to day. Sometimes he seems okay and in the next moment his is incoherent and oblivious to those around him."
One of the few moments of happiness the comedian has known in recent years arrived this fall in response to the Enquirer's September 2 plea for letters for the sick and forgotten entertainer. A flood of more than 5,000 letters from Enquirer readers poured into his modest wood frame house in Woodland Hills, Calif.
"You've made a dying man very happy." Abbott's long time manager Ed Sherman, told the Enquirer. "I asked Bud how he felt about the letters, and he tried to answer, but he can hardly speak because of the strokes. He gave me that big smile and gestured as if to say, "What wonderful people!" 'Wonderful people?' I asked. "And Bud managed to say, 'Sure are!' "
Betty Abbott, 73, the comedian's wife said, "We couldn't possibly answer all the letters, but I want to thank everybody. And please tell them that Bud is not alone. We've been together for over 55 years. The doctors never tell me anything except that he's very sick. If he could only live..." she struggled to speak. " I say my prayers for my husband every night, but..." Betty Abbott's voice broke with emotion. "I want to keep him with me for as long as I can."
Abbott was fairly active for a man in his 70's until several months ago when he fell and broke his left hip. Shortly after, he fell again and broke his left leg. Then came the strokes. Now it's hard to believe the toll that time, pain and sickness have taken on the entertainer.
"He cannot walk and is bedridden." said Abbott's son-in-law, Wheeler. "I go over to his house from time to time to help the male nurse who works there on a part-time basis. Together we get Bud out of bed and try to exercise him just to keep him active. Otherwise, he would just waste away."
Bud lies in a hospital bed in what was once a dining room. He's pasty and gaunt, wearing a gray plaid bathrobe. Only his eyes, brown and bright , are the same, though they're surrounded by dark, deep shadows.
"How are you feeling?" and Enquirer reporter asked him. Abbott's face contorted as, with great effort, he answered, "I think I'm alright. I'm not sure."
Told that four families of Enquirer readers had named their newborn babies after him, Abbott beamed with delight. "Beautiful - it's beautiful," he croaked. "Everybody's wonderful."
Abbott left show business 18 years ago when he and Lou Costello, his dumpy partner, now dead, split up after countless radio, movie and TV appearances. In 1959, a government suit for back taxes stripped the former funnyman of $750,000, leaving him to live on $180 a month Social Security.
His manager Sherman said that among the thousands of letters from Enquirer readers were gifts, mostly $1 bills, amounting to $60 to $70. "But it wasn't the money that made Bud happy, not the money at all." Sherman added, "It was the spirit of the letters. Bud's wife reads many of them to him and it's obvious how very grateful he is for them. It sure helped his spirits. The Enquirer has done a tremendous job, as they always do."
–E. G. Martin