FAQ
What is the film where Lou Costello is a ghost during the Revolutionary War?

Film: The Time of Their Lives (1946)

Lou Costello plays Horatio Prim, a Revolutionary War era tinker, who becomes a ghost and is trapped to Danbury Acres till the crack of doom with a woman named Melody Allen. In order to break the curse, they must find a letter of commendation from General George Washington. Bud Abbott plays Dr. Ralph Greenway a descendant of butler, who helps the ghosts obtain an old clock where the letter is hidden.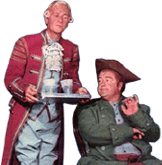 Welcome to the official Abbott & Costello website. It is our goal to help bring you the latest news and information (including new product and video releases; special events; televised specials and marathons; anything and everything pertaining to the boys). Bud Abbott and Lou Costello have conquered all the mediums of the 20th century: radio, film, and TV. With current technology brining fans from around the world together, Bud and Lou are now available in ABBOTT & COSTELLO MEET THE INTERNET!
Fun Fact
---
News
December 2016
Laughter in the Shaows of War 1941

The Fort Lee Film Commission and Fort Lee Public Library in Fort Lee, New Jersey will be hosting a 3-part film retrospect highlighting the 75th anniversary of America's entry into World War II and the popular films of 1941 that kept Americans laughing and made box office stars of ABBOTT and COSTELLO.
Admission is FREE!
Fort Lee Public Library
(Library Theatre)
320 Main St
http://www.fortleefilm.org
(201) 693-2763

Doors open at 6pm and programs start at 6:30pm
BUCK PRIVATES
December 2
IN THE NAVY
December 9
KEEP 'EM FLYING
December 16